T Bucket!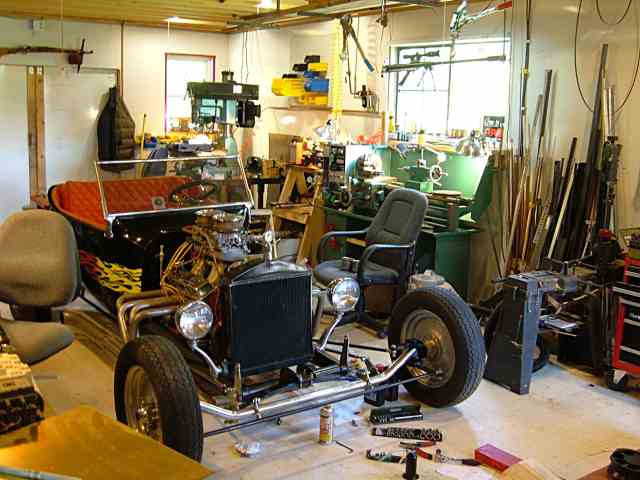 A good friend bought this car on ebay, but the original builder didn't get it quite right. We are fixing that here. Since we really like the owner, our first priority is to improve the safety. This thing has no front brakes, a terrible suspension, and generally needs a lot of work that won't show, but will make it more drivable. That is quite an engine to put on this 1000 lb go–cart. Currently it is geared wrong by most any standard. The rear end is about 3.25 to 1, resulting in this thing hitting the beginning of the torque curve at about 50 mph in first gear. As this vehicle becomes unstable and tough to drive above about 45 mph, this is a problem. Most of what we have done so far does not show. We changed the front suspension geometry, removed the useless shocks, and nickel plated the leaf spring, adding slippery UHMW plastic between the leaves. There is still too much friction, even with no shocks in the front. We will be replacing the king pins when we get some. The original owner apparently didn't believe in grease. We will also be installing grease fittings everywhere else they will do some good. The carbs are simply too much for the engine at any normal RPM, even for this high–winder. We will block off one of the primary barrels in each carb to improve driveability. As the secondaries are vacuum, they take care of themselves and only open when needed anyway. To do this trick, what one does is make a special gasket for each carb that only has 3 holes in it. You then take out the butterfly, as it would then hit the gasket, and plug up all the gasoline ports to that barrel. Bingo, a carb that looks like it is total excess, but isn't. This car also needs a higher stall torque converter, as it now has a stock one, which doesn't go well with the radical cam in the engine. Once we have fixed all these basic drivetrain issues, we will pull the body off for a nicer paint job, make a taller windshield as the current one has the top right at the level of the driver's eye, make a top for it for bad weather, and so forth. For example, the current wiring is simply hideous, and not very safe. There will be more pictures when there is something new that will show in a picture. For now, we are waiting for John to get some of the new parts. No point putting all that pretty powder coat just to scratch it up while doing the basic mechanical work.
For what it's worth, John is taking offers on this car. If you need a toy like this, get in touch with us. Here's how:

or just call us at 540-763-3253, hopefully during business hours EST.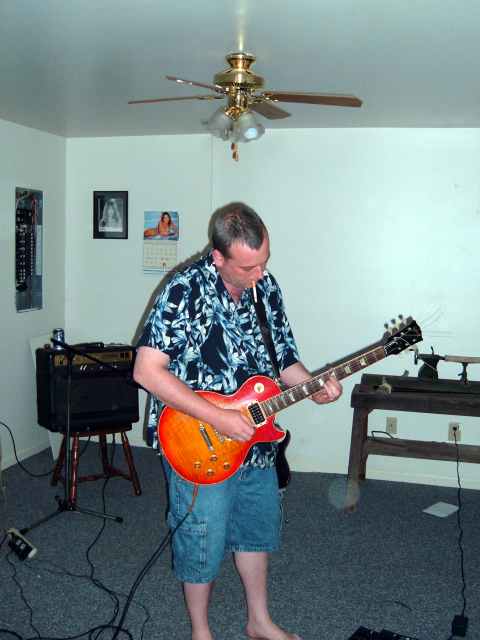 John doing what he does best. Doug considers himself very fortunate (incredibly lucky?) to have played in several bands with this fellow. You would not believe how good this guy is with a guitar, I will try to get a sample of just him playing a bit to put up here for you. He could show Steve Vai some tricks. Sadly, I'm just getting too old to be a really good rock drummer any more – it is hard physical work, even on the electronic set. Sessions only nowdays, so I can rest between tunes!

Actually, John is another engineer, just a different sort. He designs, builds, calibrates, and trains workers for chemical plants, often for solvent recovery. When my mother asked him what's different about what we do, he said "Doug does the tiny stuff, my control panels usually span a wall." If you have need for that kind of thing, John can be reached through National Automation.