Products and services:
The reason this place was built, other than to support the inventing over at C-Lab, is to support other inventors. Ever needed some wizmo gadget made, and found all the machine shops either turned you down flat, or quoted such a high setup charge you were left gasping? It happened to us one too many times. We hope to help fill the gap in these cases. The other shops are not trying to rip you off, in general. To shut down an automated CNC line and reprogram to make just one part really does cost them serious money, so they either turn you down, or quote what it would really cost them – a lot. Truth is, they could probably make 100 to 1000 wizmos or more for about the same price. For us, making say, 10 of something is a little easier than 1, but we don't have the huge avoided income problem here. Our email address is below, as a jpeg to try to thwart the spambots a little. Tell us what you need and we will quote you a fair price to make it. Of course, like C-Lab, fun and interesting jobs don't get charged as much, relatively.

or just call us at 540-763-3253, hopefully during business hours EST.
We attempted to put enough information on this site so that a moderately skilled person could duplicate most of our projects. If you need help, beyond a little advice, you can buy it here. If you've just gotta have one of these projects all built for you, we will do that too, but it will probably be a "new and improved" model based on what we learned on the first pass through. See the contact information above.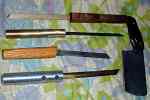 We make custom knives.
At some point Doug just got fascinated with atomically sharp knives that really hold an edge. This is the result.

Gunsmithing
Doug and Paul are fairly enthusiastic target shooters, benchrest and egg shoot primarily. There appeared to be a shortage of gunsmithing talent in this area to support this, so Doug undertook to learn how starting about a decade ago. He thinks he might know how by now. All Doug's rifles have somehow become hummers, and our advice is not to shoot against him for money...unless it's shotgun, in which case, bet the farm, you're gonna win for sure, Doug is pretty slow.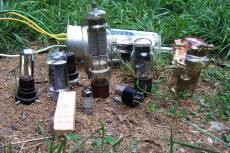 Vacuum tube collection for sale!
We recently inherited an enormous collection of vacuum tubes, some rare. The link will get you to a long pdf file listing them. No prices are up there yet, as we'd rather have some fun haggling and making friends, and some of these have seen prices out on the net that make our eyes tear up. Many of these are NOS, in the original sealed boxes, the rest are tested if possible, all are thought to be good. In addition to the list here, we have some old Edison bulbs and truly ancient tubes we might sell to the right home. Doug only wants to keep a few for maintenance and play purposes. This is several truckloads worth. Note there are a few things that appear as errors on this list -- it was hard to put together at all and digest with perl, but many times the oddball number was actually stamped on the tube base and also on the glass. In addition, we acquired a number of UTC LS transformers and other assorted iron -- essentially a tube kludgers dream kit if there are any of you still out there ;~)
Here's how to contact us: